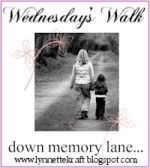 Today's memory is not one from long ago. This is an immediate memory for all of us in the extended family. It encompasses the on the Hill family, the Charming family, the Valiant family, and even dear Lulu of the USAF family.
If you've read my blog at all over the last week you might remember that my daughter and son-in-law,
Karen
and Prince Charming, took a trip to England. Their girls stayed with us during their absence. Since Lulu is also with us for the time being she was the one who shouldered the lion's share of the care while I focused upon my normal household duties. Princess and Prince Valiant also participated in keeping the girls occupied during their parents' absence. You can watch the slide show if you're interested in one way we kept the girls busy.
Well, the trip is over and everyone has returned to their own homes (except for Lulu, but that's a different story). Before the children even left our house with us to pick up their parents at the airport, Pastor Dad (the children's "Grandad"), had written a poem in honor of their stay with us. I submit it for your enjoyment in its entirety except that the children's real names have been changed to reflect their blog identities.
ODE TO MY GRANDDAUGHTERS' VISIT
Thank you for stopping by and staying for awhile.
Thank you for bringing me each joy and little smile.
I know you've stopped by before and surely will again;
1
But this time was longer than others may have been.
You brought me memories of girls that once were here,
Now grown and gone from me, and scattered far and near.
2
Thank you for the songs you sang and stories that were read.
Thank you for the prayers we shared before you went to bed.
I noticed your obedience to Aunt Lou, Gram, and me.
I noticed you in church each time -- listening reverently.
Thank you Polly, Tigger, and Sweet Pea, too!
Help each other remember how much I love you.
By Grandad
April 28, 2009
1. They'll probably be here for Sunday dinner. :)
2. Karen, Lulu, and Princess (obviously)